Latest News
---
Hotel of the Year Awards 2018
18th February 19
We are proud to announce the latest winners in our much celebrated Leisureplex Hotel yearly awards programme.
These highly coveted awards are judged on the work put in by each of our Leisureplex Hotel teams over the past twelve months.
Hotel of the Year
The Hotel of the Year award is based on feedback from questionnaires received from Alfa guests covering areas such as food quality, housekeeping and entertainment. We think this makes it all the more special for the winning hotels as we believe our guests like to be involved in ensuring we provide the best holiday experience. A big well done to all of this years winners…
Winner - 1st Place - Hotel of the Year (more than 30,000 bed nights) - Lisa Heeley - Cavendish Hotel, Exmouth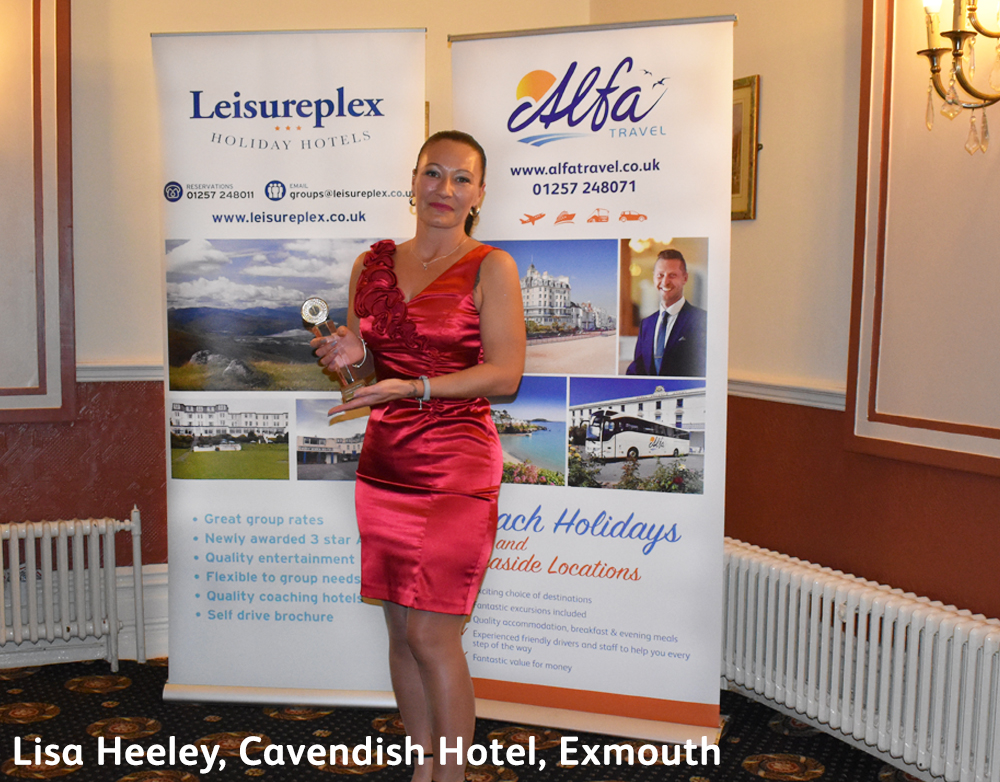 Once again Lisa and the team in Exmouth have won the top award, having received the Most Improved Hotel of the Year Award in 2017. Lisa is one of our longest standing Hotel Managers which shows in her skills and ability to maintain very high customer satisfaction levels combined with very strong financial performance. Well done Team Exmouth!
Winner - 1st Place - Hotel of the Year (less than 30,000 bed nights) - David Vickerman - Eliot Hotel, Newquay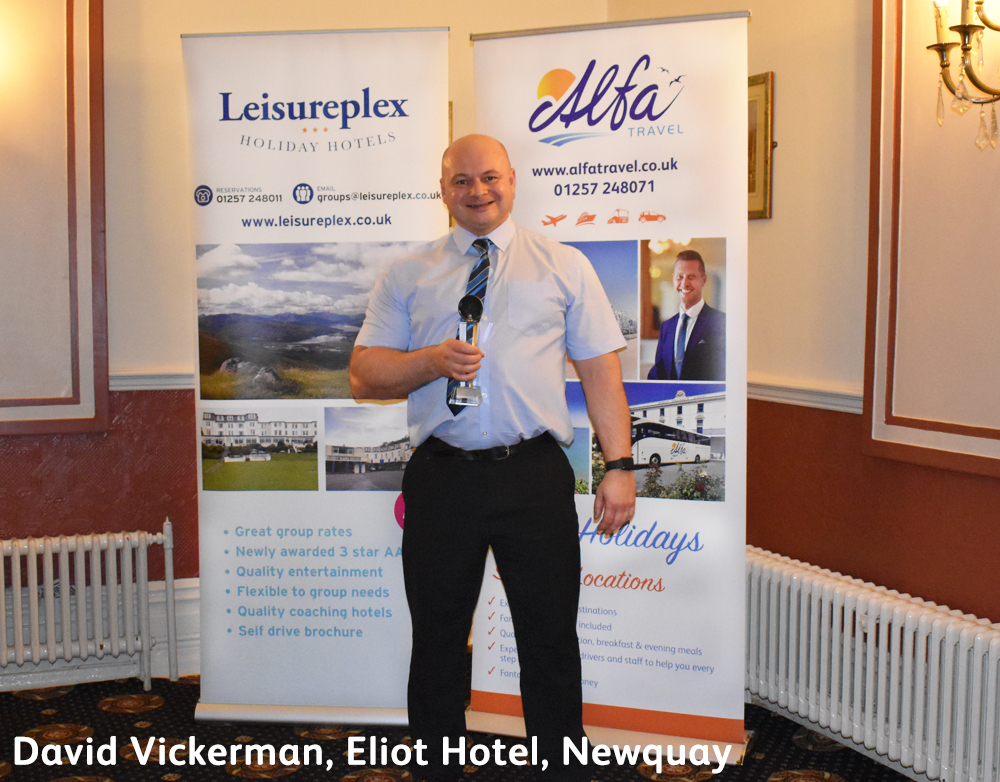 David has been the General Manager of the Eliot Hotel in Newquay for over 15 years and during this time, we've seen the increase in hotel occupancy and length of season as well as customer satisfaction levels. We're very pleased to see David win 1st place in the Hotel of the Year Award, which is down to David's consistent and hands-on approach in managing his hotel. Well done to the excellent team in Newquay!
2nd Place - Hotel of the Year (more than 30,000 bed nights) - Sven Stoyanov, Queens Hotel, Eastbourne
It's not the first time Sven has come at the top of the league, having won 2nd place in the Hotel of the Year Award in 2017, Sven maintained the very high standards at the Queens Hotel in Eastbourne and has managed to increase the occupancy at our largest hotel (130 bedrooms) and had the highest number of bednights in 2018, which is a testament to Sven's commitment and hard work of the whole team in Eastbourne. Sven doesn't stop there and we know its his aim to win 1st place in next years awards, so best of luck and watch out for team Eastbourne!
2nd Place - Hotel of the Year (less than 30,000 bed nights) - Daniel Boyden - Bayshore Hotel, Isle of Wight
Daniel has been gradually raising the satisfaction levels at the Bayshore Hotel on the Isle of Wight since taking over as the new General Manager in 2015. This comes as no surprise as Daniel is very customer focused and all his team always ensure our guests have the best holiday on the Isle of Wight. Daniel is taking on the role of a Cluster Manager for the Isle of Wight in 2019 and will oversee the operation at both our hotels on the island – the Bayshore in Sandown and Shanklin hotel in Shanklin so best of luck to Daniel in his new role!
3rd Place - Hotel of the Year (more than 30,000 bed nights) - David Tolnai - Seabank Hotel, Porthcawl and Kyle Patel/Chris Matthews - Cumberland Hotel, Scarborough
Seabank Hotel – It has been a long time coming and it's great to see that David and his team at the Seabank have managed to finish in the top 3 this year. He has successfully managed the Seabank for nearly 3 years, prior to which he ran our Bayshore Hotel on the Isle of Wight. In addition to very good customer satisfaction, David and his team managed to improve financially by nearly 40% year on year, which is a massive achievement. In addition, The Seabank has managed to maintain an impressive 8.2 Booking.com rating and Tripadvisor rates them number 1 in Porthcawl.
Cumberland Hotel – Continuing from 2016, the Cumberland Hotel has been a feature in the top 3 in the Hotel of the Year award ever since. Chris Matthews (moved to our Imperial Hotel in September) and Kyle Patel, who took over from Chris have both done a fantastic job maintaining that envious position. Kyle was the Head Chef for many years at the Cumberland and completed our Trainee Manager programme last year and has obivously done a fantastic job in the first few months, which a lot of new a Manager's find challenging. With Booking.com 8.4 (out of 10) and Tripadvisor 4.5 (out of 5) ratings it's hardly surprising to see the hotel once again taking a top spot.
3rd Place - Hotel of the Year (less than 30,000 bed nights) - Hamid Khoshneviszadeh - George IV Hotel, Criccieth
Hamid and the team at the George IV have missed out on the top 3 only a couple of times over the past 10 years, so it's hardly a surprise to see him picking up this award. It's important to note that Hamid is not only managing a very busy and popular hotel, but he very often wears a "second hat"and acts as Head Chef to ensure great customer satisfaction.
Rising Star Award - Konstantin Lipovanski - New Beach Hotel, Great Yarmouth
This award is for General Manager's who have worked for less than 2 full seasons. It's great to see Konstantin receiving this award after being with the company for only 2 years and in his first year of becoming a General Manager. He took on a relevantly new team and has worked very hard to maintain the hotels excellent customer satisfaction. In addition Konstantin and his team managed to improve financially by 45% year on year, which for the first year of taking over one of the busiest hotels in the group is an amazing achievement. I'm sure that we will see Konstantin in the Hotel of Year Award very soon. With a Booking.com rating of 8.8 and Tripadvisor 4.5 the New Beach continues to be one of the favourite hotels among our guests. Now he has moved to manage the second biggest hotel in the group, the Hydro Hotel in Llandudno, it's clear that Konstantin likes a challenge on his hands. Good luck for the future!